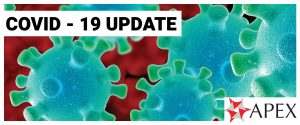 APEX Update 27 March 2020
Updates Generally: Thanks for the positive feedback on the updates.
Just so you know, the range of communication effectiveness from different employers is considerable – from quite good to utterly hopeless.  They are trying to improve their staff communications but in the interim we are erring on the side of fulsome communications to cater for those that are currently struggling.
PPE
Read the 'Best Use of PPE' document here.
This is hot off the press. Whilst it is an northern region communication, please consider this a national position until such time as we hear to the contrary.
If you have any issues with the attached, please let Deborah know over the weekend.
Psychological Debriefing
We are (nationally) working on psychological support for your all.  Advice and experiences from Whakaari/earthquakes and of course the Mosque shootings in Canterbury have informed this work.  It will be put into place over the next week or so.
Vulnerable Workers
Our occupational Health teams are working hard but are a little overwhelmed at the moment.  They are prioritizing responses on the basis of people in the most at risk workplaces first, so if you are still waiting for a response:
Give them some space; and
Talk to your manager about working from home, being off work, or moved to a back room function until you have heard back from them.
Members employed by contractors to DHBs
This includes our Healthscope/SCL/Pathlab/Medlab … Laboratory staff, Compass and Spotless members.  The DHBs have now confirmed that all staff employed by direct contractors (such as these companies), will be covered by the same provisions as staff employed by DHBs directly. 
This includes the special leave, vulnerable workers, and childcare arrangements.
Kia Kaha
APEX