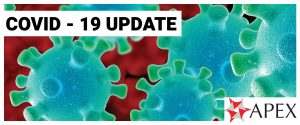 APEX Update 30 March 2020
Pregnant Workers
The DHBs have updated their advice on the risk to pregnant workers from COVID-19 as follows:

Email addresses
We all have our usual email addresses operating, however you may have noticed some emails coming from deborah@cns.org.nz for example.  CNS is the name of the company that employs all the union staff so if you receive an email from this source, fear not, it is legit.  Deborah in particular is likely to use this email address given her laptop is "older" than most and she is likely to send emails directly to groups of members from time to time as opposed to through our comm's system.
PPE
Thanks to all our reps who have fed back issues and thought about the PPE guidelines.  We do appreciate that there is a high level of apprehension out there so hope the following is helpful
There is no supply issue.  There is maldistribution which is being resolved as we speak, but for now we do have enough PPE.  And production is occurring.  The unknown is whether there will be enough going forward if….. And again there is no answer to this because we don't know the "if".  But for now there is enough.
The guidelines have been written using the best evidence and research available to us including international experience.  However we do appreciate the concern arising from the asymptomatic but unknowingly infected patient, as well as those that may not disclose important indicators to us.  These are matters the unions are taking up with the DHBs and Ministry of Health currently.
So what else can and should we be doing:
The basis of the advice is focusing on safe practice; unsafe use of PPE also has risks so lets ensure we do know how to use the equipment properly.
Washing hands – we simply can't say often enough how effective this is at limiting infectious spread.  Please ensure you do wash your hands as often as possible, and importantly dry them.
And try to keep your hands away from your face – really hard to do acknowledged, but try….
Hand sanitiser.  Now we have the visitors out of the hospitals hopefully supplies won't be heading out the door.  Maybe get yourself a small bottle you can fill up and carry with you at work?
2 metre distancing between people. If this is not happening at your workplace, talk to your manager about how it can happen.  If your tea room is too small, too few benches to work from etc.
Think of what physical barriers are possible between you and others.  Even a curtain will provide some barrier.
And of course work from home and use TeleMed where possible.  We still have some workplaces where this is problematic – stay in touch with your advocates who are working on solutions with managers.
Your own well-being
We are working on some resources for you in this regard.  This resource is a starting point.
In the next few days
We are working on guidance on what you should be paid as/if your rosters start to change.
Update on what accommodation is going to be provided by employers and to whom.
Also an update on childcare options as the DHBs and Ministry engage further with MBIE to find sufficient alternative suppliers.
 Kia Kaha
APEX