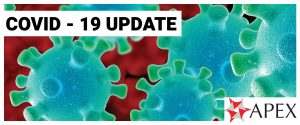 APEX Update 31 March 2020
PPE
Looks like we got the system to hear us….  Medical Grade Masks will be available to those who must as a result of their duties have close contact with patients or clients (i.e. can't keep a metre away).
RTs had already persuaded the managers to this effect as had some sonographers so well done guys.  The sonographers made a good additional point – many of them will find it more protective to have a mask on a patient than themselves.
Hopefully this will reassure many people.  As for the whole PPE issue, still further information to come on this.
And distribution of supplies out to our community providers is now sorted – you can expect to see outcomes from this ion the next day or so.
Accommodation
We had been told that the DHBs had sourced loads of accommodation for those who didn't want to risk taking covid home, or got infected.  However it transpires this was Ministry of Health acquired accommodation and it is currently being used to self-isolate people coming home from overseas.  The number of these people is dropping off now so availability will increase, but there still might be some prioritization.  We are awaiting DHB advice on what that might look like and will let you know when we do.
Childcare options
MBIE was sourcing this and didn't source enough in some regions.  They are now trying to source more.  If you have any issues let us know.
Looking after yourselves
This is another good resource our psychologists have recommended.
Finally, our apologies to those of you who inadvertently received the RDA rostering update yesterday.
Kia Kaha
APEX