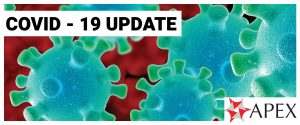 APEX Update 6 April 2020
First of all a huge congratulations to our members covered by the DHB Medical Laboratories and New Zealand Blood Service MECA who overwhelmingly endorsed their settlement today.
This has been an exhausting and lengthy campaign for this workforce as well as our scientific officers.  It began in June last year and culminated in strike action stretching from October of last year until just over a fortnight ago.  (And just how much has changed in that fortnight!!).  Getting the deal involved some pretty speedy work including facilitation with the Employment Relations Authority by Zoom just two days after the start of the lockdown.
The MECA deal provides for an immediate pay increase (5.5% to 9.5%), a $1,000.00 lump sum, and a short term – until 31 December 2020 – so that matters that were left unattended to this time can be picked up sooner rather than later.
We were seeking to have our Scientific Officers SECA become part of the bigger MECA, however could not achieve that at this time.  Nonetheless, members in this division also have an offer which is being processed as we speak: our congratulations to them also.
We're sure you'll join us in continuing to support these members as the pressure on all our Lab staff continues to grow during the Covid-19 crisis.
PPE
There has been a lot of discussion about accessing PPE.  A Union subgroup including APEX has been in discussions with the Ministry of Health around this and a revised guideline will be out shortly.  This will be followed by an "easy reference table" of what should be worn for what type of interaction.
The one issue probably of most interest to you will be around wearing a mask or visor etc. if in close contact with a patient or client. The guidance now states (underlining is ours)
"The evidence suggests that COVID-19 is spread via respiratory droplets from contact transmission. Respiratory droplets tend to only travel for 1 metre during sneezing and coughing. Avoiding being face to face with someone for at least 15 minutes will reduce this mode of transmission.  We are asking people to keep at least 2 metres distance from others as a precautionary approach.  
If you can't maintain physical distancing because you need close contact to provide cares then you may wear a mask, visor and ensure hand hygiene and other measures are performed however, we also need to be mindful that wearing a mask properly is essential to ensuring it works, and all other risk management from risk assessments must completed."
This will be published by the Ministry tonight and we will get the full document to you as soon as it is released.
Remember, not wearing a mask properly may put you at more risk than not wearing one at all so ensure you have had appropriate training on this.  If you don't think you have, ask your manager to arrange some.
APEX Covid Preparedness Survey
Read a summary from our survey here.  Thanks to everyone who participated; it really helps us to know where to concentrate efforts.  The attached is DHB centric because the numbers of participants amongst our plethora of employers of private sector members were too small to avoid some individual member identification.  None the less all feedback has been considered and individual feedback provided directly to each employer as we work with them to improve responsiveness to you on these critical issues.
Accommodation
This is the DHBs flow chart on how they intend to prioritise available accommodation.  If anyone is having difficulty in this regard, let us know and our local engagement advocate for your area will see what they can do.
And speaking of which: our team is now organized into two related streams.  The first is known to you – your divisional advocates. However advocates are now also holding different portfolios such as Phlebotomists (Abbey) and Private Sector Wage Subsidy (Luke) as well as each DHB's engagement group as follows:
| | |
| --- | --- |
| DHB Local Engagement Groups | Advocates |
| Northland | Denise |
| Auckland region | Deborah |
| Waikato | Luke |
| BOP | Luke |
| Tairawhiti | Alex |
| Hawkes Bay | Tony |
| Lakes | Abbey |
| Taranaki | Abbey |
| Whanganui | Lachlan |
| Midcentral | Omar |
| Wairarapa | Lachlan |
| Hutt | Omar |
| Wellington | Omar |
| Nelson Marlborough | Tony |
| Canterbury/West Coast | Melissa |
| Timaru | Melissa |
| Southern | Omar |
As things progress there is likely to be more activity locally than nationally, so each advocate is briefed on the national scene so they can progress issues for you locally to implementation.  If you have any local DHB issues you want to raise,  let us know. Private sector colleagues, your divisional advocates are looking to these for you.
Other work is still continuing: pay equity claims and holiday act remediation being two albeit at a slightly slower pace because of the Covid response resource required.
Kia Kaha
APEX