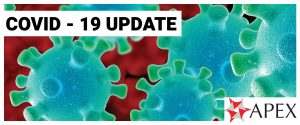 Auckland Update 7 April 2020
Auckland Region meeting7.4.20 11.31am
Regional update
Work is being done to put together a "clearance process" for employees who have had Covid-19 symptoms and been away from work.  This process is a table that covers of a number of scenarios and provides information around the "return to work" process.  This should be finalised shortly.
Likewise, a set of guidelines for employee movement between sites, between community and hospital, within hospital sites and between hospitals are to be issued this week.
A document for those employees that are pregnant under 28 weeks is to be finalised this week.
Confirming a staff contact tracing process across the region is being developed by Public Health and Occ Health and should be out before Easter.
A "well-being tool kit" is being developed nationally, which is to be included in the Auckland region tool kit, which will cover domestic violence, families with dependents etc.–  and will go out on Friday.
Meeting with the Maori workforce team as to any specific needs, likewise meeting with Pasifika group tomorrow.
DHBs have accommodation sorted and have providers as back up as well – we have asked for this contact information to be provided which will then be shared wider.
Staff Covid-19 testing is expected to be up and running in a week.  In the interim you should follow the normal process for the public, being to call Healthline and stay at home until results are known.
ADHB
147 confirmed cases in Auckland, 10 new.  The profile of cases is trending down from a peak a week ago but in part due to testing volumes being lower over the weekend.
2 positive patients in the hospital on the wards, very well contained and as a result ADHB is at yellow status level.
The hospital sits at 50% occupancy, consideration now being given as to what further work can be done in order to support the community.  The DHB is needing to get message out to community to confirm hospital is still open particularly ED, as patients are presenting to the hospital extremely unwell and should have come in earlier.
ADHB is increasing IT ability on HIPPO to enable those working from home to be able to access the intranet including the twice weekly ZOOM meetings lead by the CEO
Continuing to work through Occ Health assessments
Relaunching Influenza vaccine campaign as soon as more vaccine arrives
Communication continues to be shared around the correct usage of PPE and providing specific advice to various workgroups
CMDHB
Attention is to be turned to those working in the community and in particular resources and equipment specific to this group and how this can be delivered to them when in lockdown.
CMDHB stresses the need to keep up with Holidays Act compliance work
2 patients positive in Middlemore, per capita one of the lowest affected regions
Wait times in ED however not reducing as, similar to ADHB, those patients who present to ED are far sicker than usual
WDHB
1 Covid-19 patient in ICU and one on a ward
Similar issues to the other two DHBs
Beefing up Occ Health worker numbers to get through the assessments more quickly
NDHB
18 patients in Northland, none in the hospital
Planning and welfare is the DHBs main focus.  Accommodation guidance going out today, have had issue where workers instructed not to return home by flatmates or landlords, but alternative accommodation has been found by the DHBs in this scenario
140 requests for Occ Health assessment, people have been advised to go home in the interim
Kia Kaha
APEX