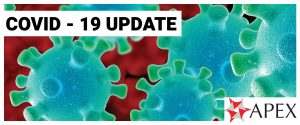 APEX UPDATE 15 April 2020
Good evening colleagues,
CASUAL WORKERS
Are you a casual worker? If the answer is "yes"; are you sure?
The use of the phrase "casual worker" in health is far too lax and doesn't necessarily refer to someone who actually is "casual".
Below are two documents:
If after reading the first document you are still unsure, contact your advocate.
WHAT IF I AM ASKED TO WORK IN ANOTHER PLACE (Hospital, DHB, Worksite)?
It is possible you might be asked to go and backfill, if for instance we have a large number of staff in one place self isolated.  What do you need to think about?
Has your employer discussed this with APEX?  If not you might want to ask them to….
Has the employer provided:

Adequate, safe and reasonable accommodation for you at the new site, at no cost to yourself.
Reimbursement of any costs of travel too and from the new site, or provision of safe transport.
Appropriate rosters, orientation and training.
All meals at no cost to yourself.
An allowance to compensate you for associated costs that might arise e.g. childcare provided by someone else.

How long will the reallocation last for and how often can you return to home base at no cost to yourself (weekends and RDOs for instance).
Your collective employment conditions continue to apply, however if you go to a site where colleagues are paid more for something, then that should be matched.
ALTERATIONS TO TERMS AND CONDITIONS OF EMPLOYMENT
For some of us, rosters have already changed – and rightly so.  APEX supported and indeed advised on pod rostering, 4 on 4 off systems and the like.  However, those employers who have suggested payment under these new rosters should be less than your collective agreements provides for, are wrong.
Take for instance the 4 on 4 off rosters: one employer suggested the staff would not get paid penal rates for weekends worked because they had an extra day off in that week.  This employer is wrong!
The purpose of 4 on 4 off systems is to ensure staff are available and sufficiently rested should they be needed to backfill colleagues who do get ill.  That in itself is an appropriate response to these challenging times; it does not however come with a price tag…. a loss to your terms and conditions of employment.  Staff also have to be paid their contracted FTE.
The Unions and DHBs were developing a national guideline to flexible rostering and pay however the DHBs have now put the development of that document on hold.  Until such time as it is reactivated and agreed, your collective agreements continue to apply.
Talk to your delegate or email your advocate you have any queries in this regard.
Kia Kaha
APEX