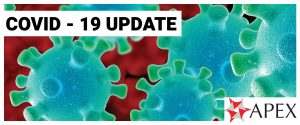 APEX UPDATE 21 APRIL 2020
Medical Laboratory Professionals Week – April 19-25 2020
A salute to Medical Laboratory Workers everywhere:
On the back of an unprecedented 8,823
Covid-19 tests processed over the weekend, Medical Laboratory Professionals Week has begun, reminding us not only of the importance of our laboratory workforce, but to celebrate them also.
Medical Laboratory Professionals include phlebotomists, laboratory technicians, scientists and scientific officers who together contribute to over 80% of patient diagnoses. However,
due to the nature of their work – mostly away from the front-line of patient contact – they often go unnoticed for the work they are doing.
That being said, one of the things that has been ongoing headline news in these extraordinary times is just how critically important laboratory professionals are. In little over a month, on top of their other "normal" work New Zealand's medical laboratory workforce have processed over 80,000 tests for Covid-19, with an average of over 2300 tests per day, throwing a diagnostic light on how and where transmission of Covid-19 has occurred in New Zealand.
Whether in the community or hospital setting, congratulations to all the team for your dedication, and perhaps also a bit of fortitude given recent struggles to conclude some collective agreements.
Volunteering at times like this:
We have heard DHBs in particular speak of employees "volunteering" to work in different locations amongst other changes to normal work practices.  And certainly from our engagement with members, have no reason to believe such changes have been by any other means.  If we are wrong on that, please let us know.
However the suggestion by some employers that they can change employees work location amongst other things in the absence of anyone volunteering, is incorrect.  The distinction of what an employer can and can't do lies in what your normal practice is.  So yes, MITs and Lab staff from Whangarei Base Hospital have covered colleagues on leave at the provincial hospitals from time to time.  But this has always been on a voluntary basis and for the purpose of covering leave.  It would need to continue on a voluntary basis as part of a covid response should the DHB wish it.  If these staff had never covered distant work-sites, then even more mandate for agreement applies.
If you find yourselves confronted with a change that is not welcomed, let us know.
Level 3 is now official:
Yes, as of next Tuesday we will be back in level three.  What does this mean for us at work?
There are a number of factors at play, so lets get our terminology right for starters.
Level 4 soon to be 3, is a National level system impacting all NZers at the direction of the Government under the Epidemic Preparedness Act 2006 etc.
DHBs also have alert levels but they are named after colours: Green (calm), Yellow (planning and preparation), Orange (implementation) and Red (!).  Most DHBs are currently in yellow, with a few like CDHB in Orange.  No DHB has made it to red (yet).
Some planning around the non covid surge is also now underway.  What is clear is that we will need to stay on our toes as the levels change, just as we did going into the covid lockdown.
And as we move to level 3, the concern that a whole lot of people who have been avoiding hospital will belatedly present is very real.  We are already hearing of burst appendix's presenting that would normally have come in earlier but….
And there have been some conflicts between the two systems.  For instance, remember Jacinda Ardern announcing all 70+ year olds should stay at home….? She forgot to say "unless you are a health worker".  That gave rise to the occ health assessment system for vulnerable workers as opposed to simply on the basis of age.  This occ health system is currently under review.  Written at a time when we were preparing for a covid onslaught, with the picture becoming clearer, the "risk analysis" is being revised.  This might see some of our people previously classified as vulnerable, being "unclassified".  We cannot comment on the extent of this until we see the proposal which is still with the Occ Health people, but we will let you know as soon as we have a clear picture.
Kia Kaha 
APEX