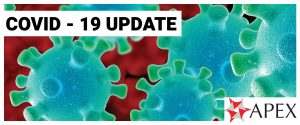 APEX UPDATE 24 APRIL 2020
The following principles have been agreed with the DHBs with respect to what they describe as "Employee Workforce Flexibility" for the duration of the COVID-19 response:
We will each do the right thing to ensure staff well-being, health and safety are maintained and protected.
We all respect the primacy of collective agreement provisions and will abide by their provisions.
Staff will be treated fairly and reasonably and will not be disadvantaged as a result of any change.
Any changes implemented will revert to pre-COVID-19 conditions once the DHB returns to Hospital Readiness Alert Level "Yellow", unless by agreement with the relevant union.
Social distancing requirements to protect staff may drive temporary adjustments to work and workplace, including but not limited to: telehealth and related technologies, PPE access and work location.
At both the National and local levels, we will all maintain early and regular engagement with each other, staff and members during the planning, response and recovery processes.
Consultation processes may need to happen quickly to respond to imminent threats or challenges.
Consultation will take place in advance of any possible change or at the point the need for change is identified, enabling advice to be sought and good decision making (Refer: Hospital Readiness Alert Level Status and Trigger Points Framework Levels Green and Yellow).
Any training requirements will be completed before any change is initiated and any orientation required completed at implementation.
It is important we keep the above in mind as not just DHBs seek to deal with the growing backlog of both outpatient and inpatient appointments with the move to Level 3 next week.  We are likewise aware of private sector employers also seeking to extend service delivery (days and hours of work), put on additional shifts and request that members work overtime to get through the backlog.
Whilst we agreed to waive the usual consultation process requirements with the implementation of the Covid-19 rosters, we have not agreed to waive the consultation process for non-covid work or what is essentially a return to business as usual. We are concerned that a mad rush to get through the backlog without the necessary FTE and safe rosters in place could be detrimental and disadvantage some workers.
We need to ensure that the health and safety of members is maintained and prioritized: whether through exposure to Covid-19 or working excessive hours and unsafe rosters, safety concerns must be addressed. We don't want to throw out the baby with bath water, so to speak: while the last 4 weeks has been an exceptional situation, it is also an opportunity to ensure we work smarter going forward.
We have a few options: either return to pre-covid 19 rosters that would still allow for Covid -19 work and social distancing, or enter into consultation with us on new rosters that includes an expansion of service delivery. If anyone is proposing new rosters with expansion of service hours or that members work overtime, please let us know, notify management that consultation is still required and that they should get in contact with APEX.
ANZAC day and your entitlements
Anzac Day falls on Saturday 25 April 2020 and is now 'Mondayised' to Monday 27 April. This means that Anzac Day is observed either on Saturday or Monday, depending on employees' work patterns.
So, what are you entitled to?  This depends on when you work….
If you work on both Saturday and Monday:
Saturday:
You are entitled to public holiday rates (T1.5 as per the Holidays Act or T2 in your collective)
 Monday:
If you work on Saturday and are rostered off on Monday:
Saturday:
You are entitled to public holiday rates (T1.5 or T2)
Monday:
If Monday is your usual day off. Then this is treated as per normal (your day off, without pay)
If you would have otherwise been rostered to work on Monday (ordinary day of work) you should still get paid as per normal for your contracted FTE. Please ensure that your employer does not require you to take leave on this day or deducts the alternative holiday you earned for working Saturday
If you work Monday and are rostered off Saturday
if Saturday is you weekend or ordinary day off nothing changes (you do not receive payment).
You are entitled to public holiday rates (T1.5 or T2)
If Saturday is your ordinary day of work (you would have otherwise been rostered to it), then this is when Anzac Day falls and you get paid for it as a public holiday not worked.
Monday is paid at either ordinary time as per the Holidays Act or if otherwise stated in your collective agreement at T1.5.
Hopefully the above is clear…..
And on that note have a great weekend and a reflective moment for our ANZACs and all this day represents.
Kia Kaha 
APEX