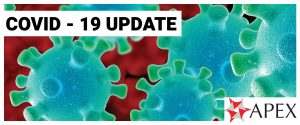 Dear Colleagues
In case you have not already seen this document, it is the latest version of the DHBs general advice on how people away from work will be paid, as well as other matters.  Click here to read the document. This is also on our website under our Covid-19 resource section here.
If you are in self isolation – you will be paid special leave i.e. continue to be paid, no leave balances will be disrupted.
If you are sick (unless you are self isolating in which case it is special leave), it is sick leave. However, the DHBs will be granting additional sick leave for those who need it, because we don't want financial pressures to see people turning up to work when sick.  And PLEASE- if you are sick, stay at home.
APEX is currently engaging with the DHBs over PPE (Personal Protective Equipment) to ensure those who will be front line know how to use it.
We are also talking about shutting down non-essential services earlier rather than later to allow some breathing space and exploring the potential for redeployment which might require some refresher training.
Members in Pharmacy, Anaesthetics, Laboratories, Physiotherapy and Radiology:  We expect specific work streams will be set up for issues specific to your areas.  APEX will be in touch about what you guys need over the coming days if we have not done so already.
Finally, I know we have said this before, but, the DHBs are currently rolling out flu vaccinations.  Take a moment to get the flu jab; on top of COVID-19, getting maximum protection from the flu for our people could be critical and something most of us can do to keep our communities safe.
We will be in touch.
Kia Kaha
APEX