What is a Clinical Perfusionist?
In physiology, perfusion is the process of nutritive delivery of arterial blood to a capillary bed in the biological tissue. The word is derived from the French verb "perfuser" meaning to "pour over or through."
Clinical Perfusion is a departmental section of the Cardio-thoracic Surgical Unit (CTSU) at Auckland District Health Board and is responsible for the provision of perfusion services and provides a 24hr/7 day service.
The department is staffed by Clinical Perfusionists certified by the Australian Board of Cardiovascular Perfusionists (ABCP) or by a hospital approved certification programme (eg: EBCP, AMSECT) and by perfusion trainees training under the ABCP education scheme.
Clinical Perfusionists are governed by the Australian & New Zealand College of Perfusionists (ANZCP).
In order for the surgeon to be able to operate on the heart, often it is necessary for it to be excluded from the normal circulation of the body, and stopped for a period of time. Cardiopulmonary bypass (CPB) and the use of the heart-lung machine makes this possible.
During cardiopulmonary bypass, the blood that normally flows through the heart and lungs is diverted to the heart-lung machine which temporarily assumes the roles of these organs.
The primary role of a clinical perfusionist is to prepare, operate and maintain functionality of the heart-lung machine.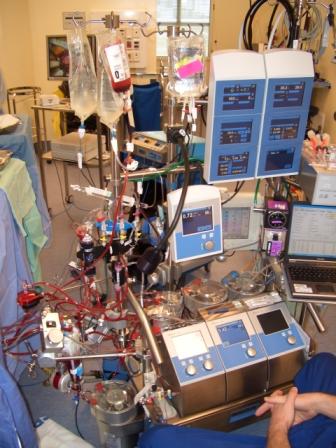 Services provided include:
Adult, paediatric and neonatal cardio-pulmonary bypass
Extra corporeal membrane oxygenation (ECMO)
Within our institution and national/international transportation
Circulatory support for liver transplants
Intra-aortic balloon pump support
Ventricular assist device support
Intra-operative autotransfusion
Clinical consultation and teaching
Planning and managerial support
Perfusion services are provided in the following locations:
Clinical Perfusion Unit
Cardiac Theatres
Liver Transplant Theatre
Coronary Care Unit (CCU)
Cardiac Investigation Unit (CIU)
Surgical Laboratory
Cardio-vascular Intensive Care Unit (CVICU)
Paediatric Intensive Care (PICU)
Transportation of patients from around the country
Visit www.anzcp.org for further information.