Is a Pharmacy Technician the same as a Pharmacist?
No, a pharmacy technician holds a national certificate and works alongside a pharmacist in either a community or hospital pharmacy setting. Pharmacy technicians are not currently a registered health professional group although this is expected to change in the future.
The training framework is currently being revised and should reflect changes that affect our career paths.
What does a Pharmacist do?
The overarching responsibility of a pharmacist is to ensure medication is appropriate & safe for a patient.  This can be done in various ways which include assessing the individual patient as to whether the drug, route, frequency and dose is appropriate or if it requires modifying. The pharmacist will check for drug interactions, co-morbidities and presenting condition.
Pharmacists also provide advice to patients, caregivers and other healthcare professionals on medicines.
In hospital, a pharmacist can have many different roles, such as a clinical pharmacist who works with patients & other healthcare professionals on the wards & in clinics – being a pharmacist-prescriber or working as a specialist pharmacist within a speciality such as oncology, cardiology, clinical trials or surgery.  They are also involved in the supply of medicines from the dispensary or a sterile or non-sterile manufacturing area.
What does a Pharmacy Technician do?
In a hospital pharmacy, duties may include the processing of prescriptions and dispensing of medicines, stock imprest management, repacking bulk medicines, monitoring and delivery of medication to hospital wards and departments.
Pharmacy technicians deal with hazardous substances, compounding cytotoxic medicines, suspensions, ointments and creams under the supervision of pharmacists.
A pharmacy technician should have a good knowledge of the human body and the pharmacology for a wide range of body systems and may also provide written and oral advice on the use of dispensed medicines and dose forms
A hospital trained pharmacy technician may also work in a ward setting, performing medicine reconciliation on admission and discharge. This entails speaking with the patient to obtain a thorough medication history, giving medicine information to patients, liaising with medical staff and working alongside the pharmacist as part of the team.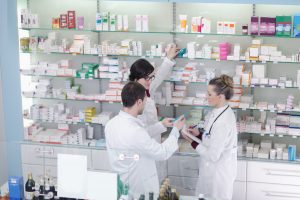 Current News
Consultation Documents
Pharmacists & Pharmacy Techs - Delegates:
Download Collective Agreements
Divisional Newsletters